Youth Opportunities - Scholarships
The Frontier Power Company participates in many projects involving the youth of our area.
Supporting our schools, we offer to come into the classroom and educate students about Frontier Power and how electricity is made and travels into homes.  We also host a cook out for the last day of school at River View Jr. High - our "Adopt A School",  and have educational and safety seminars for groups of students participating in field trips from the school.  
Programs are offered to area 4-H clubs for safety meetings and energy meetings.  Frontier Power also helps with the area 4-H Kickoff held in April of each year and directs the "Lamps at Camp" project at 4-H Camp each year. Frontier Power supports youth involved with 4-H and FFA by purchasing livestock at the Tuscarawas and Coshocton County Fair. 
Scholarships are offered to qualifying students  
Children of Members Scholarship Information
Children of Members Scholarship Application   - Deadline is February 6, 2023.
Youth Tour Application - Deadline is February 6, 2023.
THE DATES FOR THE 2023 YOUTH TOUR ARE JUNE 17 - 23, 2023.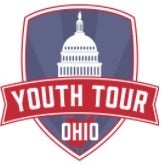 For more information about the Cooperative Youth Tour, and to follow on Facebook, please click on the icon at the left.
2023 Scholarship Winners
Girls Division:  1st Place – Josey Richard, River View HS, daughter of Brad & Janell Richard
2nd Place - Adeline Kendle, New Philadelphia HS, daughter of Todd & Christine Kendle
Boys Division:  1st Place - Jonathan Vu, River View HS, son of Thanh Vu & Suzanne Nguyen
2nd Place - Kaden Arnold, River View HS, son of Jack Arnold & Christine Wilson Arnold