Each month, your bill is figured based on the number of kilowatts used.  Bills are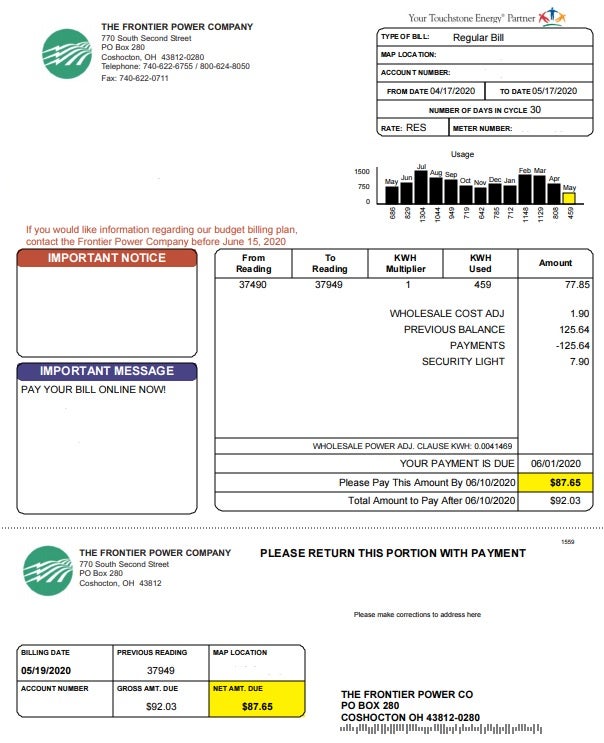 figured around the 20th and printed and mailed out by the 25th.  Your bill should arrive around the 27th of each month.  Bills are always due the 1st of each month, with a grace period through the 10th of each month.  After the 10th, a 5% penalty will apply to your account.
You may mail your bill postmarked by the 10th, or can stop by our office located on Second Street in Coshocton and pay at the drive-thru, drop off in the night deposit box, or pay at the front counter.  You may also pay on line from this website, or through your bank.  Frontier Power billing staff can also process your payment over the phone using your debit/credit card or check by phone. 
You may elect to be on the budget which allows you to pay the same amount per month all year long.  Budget accounts are reconciled in June and members must be with Frontier Power for at least one year before being able to get on the budget.  Please call the billing department for an estimate of what your budget would run.
You may click on this SMARTHUB link if you would like to pay your bill on line now.
If you do not have a user login ID yet, click on PAYNOW.
The SmartHub App is now available for both Apple iOS  and Android OS Devices.  Click on the following links to download the appropriate app for your use: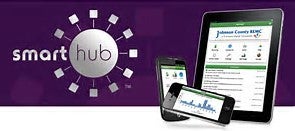 Automatic bill payment is also available for your convenience.
What is automatic bill payment?  Automatic bill payment is a method of payment that allows you to automatically have your electric payment withdrawn from either a savings or checking account or charged to your credit card each month.
How will I know how much is being withdrawn from my account?  You will still receive a bill stating your total due and that the specified account is enrolled in the "Automatic Bill Payment" plan.
When will the payment be withdrawn from my account?  Withdrawal from your savings or checking account, or charge to your credit card for the "Automatic Bill Payment" will be processed on the 8th of each month.
How much does this service cost?  There is no charge for "Automatic Bill Payment", it's just another service provided to you by The Frontier Power Company.
If you would like your payment to be processed automatically from a checking or savings account, or a credit card, sign up for Electronic Direct Payment HERE, by completing the form and turning it into our billing department.  Payments will be processed on the 8th of each month.