Your meter is read via satellite through an Automated Meter Reading (AMR) syste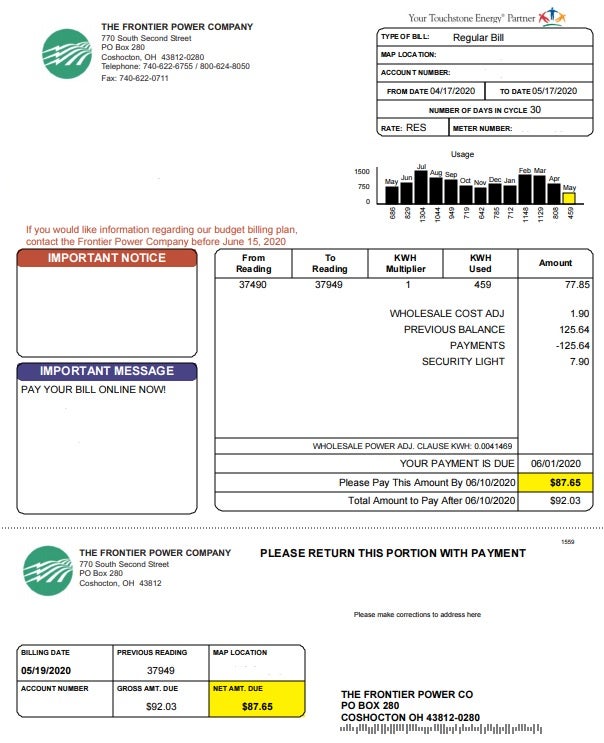 m every day.  On the 17th of each month, your reading is downloaded for billing.  By the 25th of each month, your bill has been processed and mailed to you.  If you would like to receive your bill via email, you can update your settings through SmartHub, or call us to mark your account to receive an e-bill. 
For your convenience, we offer various forms of payment for your Frontier Power bill.  We accept Visa, Master Card and Discover credit and debit cards, personal checks, money orders and cash.  You may stop by our office or use our drive-thru during business hours, drop your payment off after hours in our night depository, or payments may be mailed to our office.  You may also call during business hours to process your payment with a Visa, Master Card, Discover card, or check by phone.  Please be sure to include your account number when making payments.
If you would like your payment to be processed automatically from a checking or savings account, or a credit card, sign up for Electronic Direct Payment HERE, by completing the form and turning it into our billing department.  Payments will be processed on the 8th of each month. 
One of the best ways to pay your bill is using SmartHub, anytime, day or night.  Not only does SmartHub process your payment, but once signed in, you can analyze your account to review your electric usage, see trends in your usage, and do comparisons from month to month or year to year.
We DO NOT recommend you make payment through doxo, local stores, or any other third party vendor.  They may charge extra and may hold your payment, causing a late payment with Frontier Power.
Use the following links to install the SmartHub app on your mobile device:  Android OS     Apple iOS